After some rigorous campaigning and a fairly transparent electoral process, 
P@SHA
announced results of the CEC elections. The elections for the Central Executive Committee, for the tenure of 2020-2021 were held in Karachi, Lahore and Islamabad on 16th September 2020.
Out of the 8 contestants, the 5 elected candidates for this year's CEC include:
1. Ammara Masood, NDC Tech Pvt Ltd
2. Badar Khushnood, Bramerz Pvt Ltd
3. Barkan Saeed, Vizteck Solutions
4. Salman Dar, Itroos Pvt Ltd
5. Waqas Khan Pitafi, DevBatch Inc.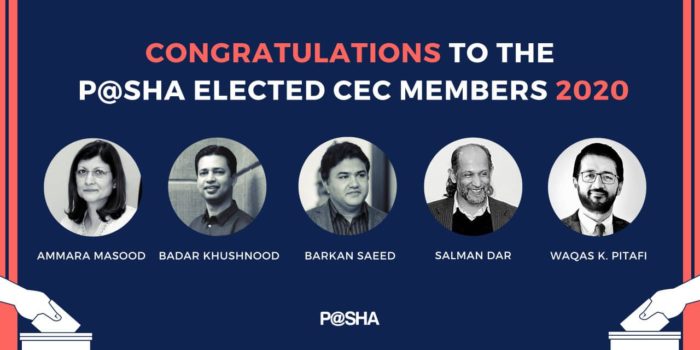 Additionally, the following members will continue to serve the CEC:
1. Shahzad Shahid, TPS Worldwide
2. Naseer A. Akhtar, Infotech Group
3. Mujeeb Zahur, S&P Global
4. Shamim Rajani, Genetech Solutions
5. Syed Ali, 7Vals
6. Amin Ansari, Stewart Inc.
CEC members retiring this year, include:
1. Syed Ahmed, DPL Pvt Ltd
2. Abbas Khan – Abacus Consulting Pvt Ltd
3. Talhah Munir Khan – Knowledge Platform
4. Sultan Hamdani – Maison Consulting
5. Muhammad Zohaib Khan – A2Z Creatorz
The three Election Commissioners who ensured a smooth electoral process, including one from each of the main cities were:
1. Dr. Ayub Alvi, Rector FAST-NUCES (Islamabad)
2. Khurram Zafar, 47 Ventures (Lahore)
3. Veqar ul Islam, CEO Jaffer Business System (Pvt.) Ltd. (Karachi)
Here's wishing the best of luck to the newly elected members of the Central Executive Committee. Here's hoping the information technology industry sees higher growth, and improved business ease!
News & Image source: P@SHA